Luis F. Miranda-Moreno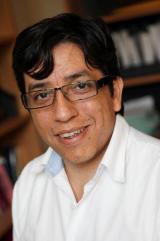 Dr. Luis Miranda-Miranda is a professor of Civil Engineering at McGill University. His research interests focus on road safety issues, travel/driver behaviour modelling, and sustainable transport strategies. His research interests include the development of crash prediction models, crash risk exposure models for pedestrians and cyclists, methods for hotspot identification and evaluation of safety interventions. His research interests also include the understanding of short and long-term changes in travel behaviour and transportation demand, the impacts of transport on the environment and the evaluation of energy efficiency measures. He has been involved in different projects for transportation agencies in US, Canada and Mexico, including Transport Canada, the Ministry of Transportation of Ontario and Quebec, City of Montreal, Montreal Direction of Public Health, among other. Since his arrival at McGill in August 2008, Dr. Miranda-Moreno has built an extensive research program with focus on safety for non-motorized modes and development of sustainable transportation strategies.
Selected publications
Miranda-Moreno L., Morency, P., El-Geneidy A. (2011). "How does built environment influence pedestrian activity and pedestrian collisions at intersections? Accident Analysis and Prevention.
Miranda-Moreno, L., Nosal T. (2011) "impact of weather on physically separated cycling facilities and temporal trends in an urban environment?" Journal of Transportation Research Record (accepted).
Miranda-Moreno, L., Labbe, A., and Fu, L. (2007), "Multiple Bayesian testing procedures for selecting hazardous sites", Accident Analysis & Prevention, 39(6), 1192-1201.
Courses
CIVE 319 - Transportation Engineering
CIVE 540 - Urban Transportation Planning
CIVE 560 - Transportation Safety and Design
Attachments


Miranda-Moreno_CV.pdf